| | |
| --- | --- |
| Maintaining your garden can be a challenging task, especially when it comes to having the right tools and equipment. The Wolf Garten 4 in 1 Rake is an excellent lawn rake option for homeowners, thanks to its adjustable working widths that include 20cm, 48cm and 76cm settings. The rakes 76cm working width is ideal for removing leaves and green waste from larger areas quickly and efficiently. The rake is also effective in tight spots with limited space. | |
The 4 in 1 Rake is a versatile tool that addresses various gardening needs, such as raking, leveling dethatching, among others. With this rake, you can safely remove leaves from the pool area without harming the gutters or use it to rake hard surfaces. It is guaranteed to accomplish the tasks effectively.
The 4 in 1 Rake has a distinct attribute, the 2 detachable side flaps can function as leaf grabber. This capability adds convenience and ease to the job, which in turn saves valuable time and money.
The unique aspect of Wolf Garten equipment is the Multi-Star Click System that provides interchangeable attachments. With 15 handle options and 70 attachment options available, the system allows for over 1000 combinations within the WOLF-Garten collection. This extensive variety ensures that there is a WOLF-Garten tool suitable for every task in your home and garden.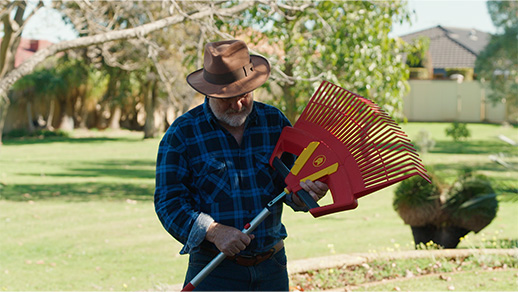 All Wolf Garten handles and attachments comes with a Lifetime Warranty, you can make a one-time purchase and enjoy the equipment for life!